About Steelkey Insurance
Our team of insurance professionals are here to help you find the right coverage for your needs.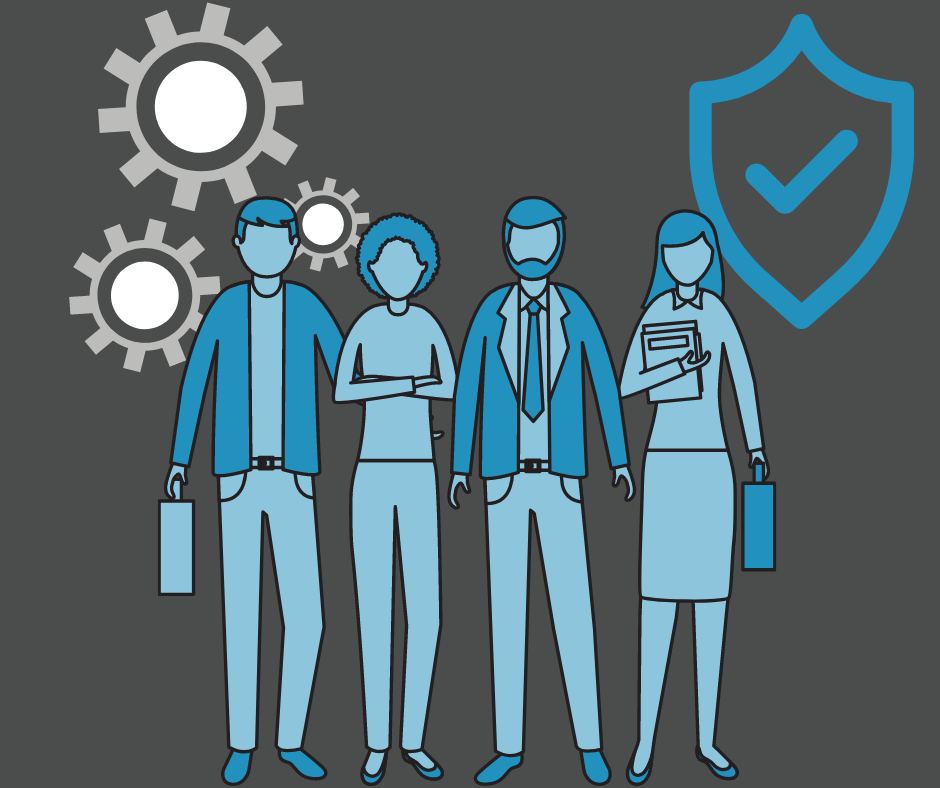 Put You & Your Family in Good Hands
Get In Touch
Connect with our agents today and we'll send you on the path to total coverage. 
Meet the Team
It's important to SteelKey Insurance that we create a relationship based on trust, honesty, and mutual respect – and our team reflects those values.
Ryan Murphy 
Agency owner 
Ryan is ready to find you the best insurance coverage possible. He is a guy that's a fan of any movie that will make him laugh. His favorite book is Never Split The Difference. His favorite place to vacation is in Aruba. He doesn't have a particular favorite food because anything his wife cooks is his favorite. Ryan's favorite quote is, "In the end, your integrity is all you've got."
Dawn Hucker
Agency Manager
At SteelKey Dawn is a reliable agent that will help you find the best coverage possible. She loves the movie Dirty Dancing and reading her favorite book Wuthering Heights. For her vacation, she chooses the sandy beaches of Jamaica. She also enjoys a juicy steak as her favorite food. Her favorite quote is, "Let the rest do whatever, while you do whatever it takes."
Dawn Schafer
Customer Service Manager 
Dawn, an agent at SteelKey insurance ready to help you find the right coverage. Her favorite movie is A Week at Bernie's and her favorite book is The Lorax. She loves to vacation in Outer Bank, NC where she eats her favorite food filet mignon with lobster sauce. Her favorite quote is, "Somewhere between black and white is a field of gray, I will meet you there."
Ryan Telles-Hinch
Sales Agent
With Ryan, you are in good hands! He will always find the right coverage for you! His favorite movie is Princess and the Bride and he loves to eat pizza. He enjoys going on vacation with his family. He also believes in a quote saying "Success is not final, failure is not fatal: it is the courage to continue that counts." by  Winston Churchill.
Bob Karns
Account Manager 
Bob is here to help. He loves insurance and wants you to feel confident in your decisions. His favorite food spicy crab rolls. He loves the book Projection. When it comes to movies he's picking Scott Pilgrim VS. The World. He loves the water and where vacation anywhere where he can dip his toes in. His favorite quote is "A book lying idle on a shelf is wasted ammunition."
Armand Latour
Sales Agent
Armand is here to find you great insurance. You can find him watching Ghostbusters or reading The Expanse Series. In his off time, you'll catch Armand hiking through the mountains where he eats his favorite food smoked ribs. His quote is, "Chewie, get us outta here!"
Bailey Hucker
Sales Agent
Bailey is eager to help you find the right coverage. She loves to eat crab while reading her favorite book The Fault in Our Stars. She also loves the movie 50 First Dates. She loves to spend her vacation time in Kentucky. Her favorite quote is "Everything happens for a reason."
Tom Walman
Sales Agent
Tom is here to get to work for you! He loves to eat some pizza and watch the movie The Usual Suspect. He likes to vacation in the mountains and get some fresh air. He loves to read It and his quote is, "Listen, do you smell something?"
Corey Ward
Sales Agent
Corey is jumping with joy to get you the right insurance help. You will find Corey relaxing on the beach in the summer for his vacations. He loves to watch The Shawshank Redemption and read Ready Player One. His go-to food is Mexican. His favorite quote is, "Wise men say, 'Forgiveness is divine, but never pay full price for late pizza.'" 
Daniel Rodriguez
Sales Agent
When it comes to handling your insurance needs, Daniel is a professional that you can really trust.  His favorite place to vacation is Puerto Rico. He loves to watch the movie Braveheart. For books, his go-to is Rich Dad Poor Dad. He loves to chow down on some great pizza as his favorite food.
Garrett Gaetano
Sales Agent 
Garrett is here to help you with all your insurance needs. He loves the classic Forrest Gump. A food that satisfies all his cravings is chicken. He loves to read the Harry Potter Series. He also likes to take time to relax on some sandy beaches. His favorite quote is, "The best things in life are on the other side of fear." 
Nikki Moore
Sales Agent
Nikki is eager to help you take the steps toward security when it comes to finding the right insurance. In the summer you'll find her vacationing away in Hilton Head, SC. She loves the movie Coming To America. Her favorite food to eat is steak. In her free time, she loves to read Winning with Accountability.